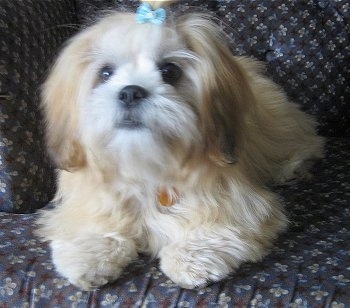 Dog Humping Problems
Dogs are my favorite type of pets because they are so playful and mellow when you want them to be. I have two of my own, a Lhasa Apso of 5 years and a Bloodhound of 6 months. The Lhasa Apso, Gizmo, has been making me wonder about what happens when you neuter a dog. He was neutered before he was a year old because we didn't want to have baby Gizmos running around. We also wanted to make sure we had a mellow dog, because we had researched that Lhasa Apsos can be quite aggressive when they are bothered, but otherwise are great dogs. Apparently neutering him didn't help so much.
Neutering a dog changes their hormones and makes them sterile so they don't reproduce. Along with making the dog sterile, when a dog is neutered, they are usually better pets. Dogs don't mark their territory as much, roam from home, feel dominant over family members, and are more relaxed after being neutered.
Gizmo is quite the opposite, let me tell you! He is very aggressive, he thinks he is more dominant than any of my family members, and he still…humps. I don't understand any of this. Being neutered as a puppy, I would think that he had less of a chance to act like this. I also know that it could be his breed, but neutering still should have shown some difference, so I thought. When I try to lock him up in his kennel, like we always do before we leave the house, he growls and shows his teeth. It isn't like he doesn't like his kennel either. He also humps my leg, which I don't understand in the least. He gets mad when the family sits down at the table to eat, and he tries to eat the "people food." I know we treat him like royalty, but we still train him to be behaved, and he knows better than not to eat "people food."
I would really like to know what is going on with Gizmo because he really shouldn't be behaving in these ways. Gizmo should be mellow, relaxed, and not humping my leg after he had gotten neutered. I know that Gizmo's breed can sometimes be aggressive; I hadn't seen a difference since his neutering. Could this be his hormones or could it be that his behaviors are really that closely based to his breed?
Posted by Alyson Paige (4)